Cathedral of Saint Paul, St. Paul, Minn.
Architect: Miller Dunwiddie, Minneapolis, Minn.
Sheet Metal Contractors:
Dalco Roofing and Sheet Metal Inc., Plymouth, Minn.
John A. Dalsin and Son Inc., Minneapolis, Minn.
Restoring the luster to a monument of faith built more than 95 years ago, best describes the restoration of the Cathedral of Saint Paul completed in August 2002. With more than 200 craftsmen from 15 contracting firms representing 18 building trades, participation in this daunting project was a labor of love for each employee lucky enough to be associated with the extraordinary work of art created from stone, copper and wood.
Designed by French architect Emmanuel Masqueray, construction of the fourth largest cathedral in the United States began in 1906 with the first services held in 1915.
Characterized as Classical Renaissance with a twist, Masqueray took the best aspects of European cathedrals and added American flavor. Constructed from 250,000 cubic feet of gray-pink granite quarried in nearby St. Cloud, Minn., the imposing structure is 307 feet long and 216 feet wide.
The responsibility of restoring and renovating close to 100,000 square feet of copper roofing along with related flashing and ornamentation went to the employees of John A. Dalsin and Son and Dalco Roofing and Sheet Metal. Completed six months ahead of schedule, the $30 million renovation project was accomplished in two years.
"I've had two sons confirmed in the cathedral," commented Mike Connelly, an employee with John A. Dalsin and Son Inc. "It's a special place for me and my family and being able to work on this project makes it all the more special."
Scaling imposing heights of more than 300 feet, the restoration of the cathedral's main dome was the most extensive portion of the project. Crews removed the existing copper and rosin then repaired the tile below. The new roof, comprised of 20- to 32-ounce copper sheets, was meticulously installed over two layers of plywood, two layers of ice and water shield, two layers of #30 felt and finally one layer of rosin paper. One sheet metal worker commented, "Someday another crew may be back here performing work, but hopefully they won't find the dome in as bad a shape as we did."
In addition to the main dome over the altar and body of the cathedral, there were many other copper domes smaller in size but nonetheless elaborate in their individual designs. The main chapel domes had lanterns at four locations. The two bell tower domes flank each side of the front entrance. Six copper domes cover the apse roofs over the "all nations" chapels in the rear of the cathedral. The copper roof over the ambulatory covers the passage behind the altar.
There were also major narthex areas on three sides of the main body of the cathedral which required flat, batten-seam copper paneling with locked caps. The narthex copper roofs sloped down to flat drainage areas where American Hydrotech membrane was ballasted with concrete pavers to contain and control evacuation of the runoff.
The coordinated efforts of Dalco Roofing and John A. Dalsin also involved the restoration of many large-scale ornamental copper pieces. Each piece was lowered to the ground where it was numbered, tagged and photographed so it could be re-installed in its original location.
The restoration and repairs were performed in an onsite sheet metal and carpentry shop. An innovative sandblasting technique, very similar to the method used to clean and restore stone, was used on several pieces that did not require total restoration. A separate booth was constructed to sandblast copper pieces and capture the water and copper salts for proper disposal.
You might also be interested in…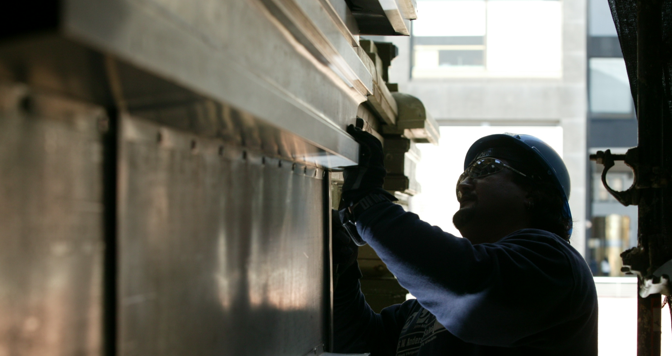 St. Paul of Tarsus Catholic Church Clinton Township, Mich.
Architect: Constantine George Papas/AIA Architecture/Planning Sheet Metal Contractor: Custom Architectural Sheet Metal Specialists (C.A.S.S.) St. Paul of Tarsus Catholic Church, Clinton Township, Mich. Architect: Constantine George Papas, AIA Architecture/Planning of Troy, Mich. Contractor: C.A.S.S. of Detroit, Mich. Thanks to work by Custom Architectural Sheet Metal Specialists (C.A.S.S.) of Detroit, Mich., the congregation of St. Paul … Continue reading St. Paul of Tarsus Catholic Church Clinton Township, Mich. →
Hoboken Ferry Terminal, Hoboken, N.J.
Architect: Beyer Blinder Belle Architects of New York, N.Y. Contractor: Schtiller & Plevy Inc. of Newark, N.J. Combining the old with the new, this SMACNA contractor worked with refurbished copper elements and duplicates of original pieces to help bring back the magnificence of the eastern façade of the historic Hoboken Ferry Terminal in Hoboken, N.J. … Continue reading Hoboken Ferry Terminal, Hoboken, N.J. →
Franklin County Courthouse, Pasco, Wash.
Architect: CKJT Architects, Kennewick, Wash. Sheet Metal Contractor: McBride Sheet Metal Inc., Portland, Ore. Time and nature had not been kind to the appearance of the Franklin County Courthouse. The original courthouse was built in 1913 and was badly in need of an upgrade. McBride Sheet Metal, of Portland, Ore., was called in to complete … Continue reading Franklin County Courthouse, Pasco, Wash. →