Training
The contractors and workers who have developed this Web site – the Architectural Metal Expertise team – pride themselves on their dedication to training. Our industry's formal apprenticeship program features four to five years of "on-the-job" learning by the apprentice, as well as hundreds of hours of classroom time. This includes specific training in all aspects of architectural sheet metal, as well as extensive safety training. Our commitment includes more than $50 million invested each year on training across the nation. Applicants must meet certain requirements before they are accepted as apprentices. To advance, apprentices must demonstrate specific knowledge, skills, and abilities.
Standards
Standards are important in every industry. Here's the key: When you hire an Architectural Metal Expertise contractor, you're getting a company and workers who live by the industry's standards.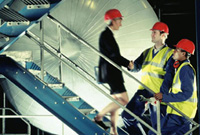 The standards that are commonly accepted in any architectural work involving metal come from the Sheet Metal and Air Conditioning Contractors National Association (SMACNA). SMACNA has three manuals pertaining to architectural sheet metal – Architectural Sheet Metal Manual, the accepted industry standard for architectural sheet metal work today; Residential Sheet Metal Guidelines, a resource for exterior sheet metal work in residential buildings; and Standard Practice in Sheet Metal Work, the original SMACNA Architectural Sheet Metal Manual, which is used often in architectural sheet metal restoration work.
We write them.
We revise and update them.
And the contractors who choose to be members of SMACNA– Architectural Expertise Contractors– really do live by them!
Performance
By choosing an Architectural Metal Expertise contractor, you will ensure that the work will be installed right – the first time.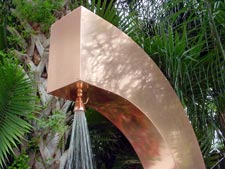 This choice will also save money in the long term by:
Reducing risk of leaks
Reducing risk of damage from expansion and contraction
Offering valid warranties
Knowing how to work with other trades
Performing work on schedule
Reducing mold exposure
Anticipating constructability issues
Design Assistance
Including an Architectural Metal Expertise contractor in the design and pre-planning process will result in a properly installed sheet metal project that is extremely aesthetic and cost-effective. Architectural Metal Expertise contractors offer technical guidance and suggestions on the choice of metals, the relative economies of different techniques, and share their experience with designers.
How to Choose an Expert
In finding a competent, capable contractor to use in your architectural sheet metal projects, you need to find someone who can meet your many needs. This may seem challenging. But, we make this easy – through the Search for an Expert section of this site. Here, you can find Architectural Metal Expertise contractors that can provide the expertise necessary to meet your needs.
We're aware that you want more than this Web site's "word" on the quality of the Architectural Metal Expertise contractors and workers you'll find at this site.
We suggest that you:
Ask questions – in fact, we encourage you to do so.
Check references. As an organization with a deep history, our members' companies have architectural metal expertise that date back decades!
Below are some additional suggestions to consider when choosing an Architectural Metal Expert: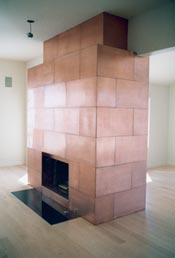 Review completed projects
Ensure the company is experienced in your required type of work
Call the material vendor for references (e.g. call zinc vendor if doing a zinc roof)
Visit the company's offices/shop

Examine workmanship of parts in fabrication
Review QC procedures
Review shop drawings
Many repeat customers?
Accident record/insurance rating and EMR
Expected workload during your project timeline
Average number of projects
Superintendent/foremen qualifications

Use the SMACNA/AIA Qualification Checklist to help you determine if a prospective architectural sheet metal contractor is qualified.